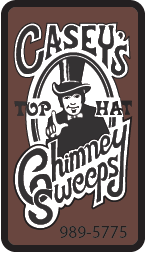 Wood safety
There is nothing more rewarding than using sustainable locally sourced firewood to heat your home. Whether you cut and stack it yourself or have it delivered, there is something satisfying and primal about starting a fire. However, fire is a force that needs to be respected and controlled carefully. Precaution must be taken to ensure the safety of our homes. One of the most important precautions is ensuring that the flue is intact and free from combustible creosote and other blockages
Birds
Chimney swifts are the only birds which can fly straight up and down and they – along with their other feathered friends and four-legged critters – find the perfect nesting spot in your chimney.
Tax credits
A wood stove tax credit is available for those installing a new wood burring fireplace/woodstove under the biomass tax credit under Residential Energy Credits
Casey's Top Hat Chimney Sweeps strives to provide the best prices and service in the area. Give us a call or fill out the contact form to receive a free estimate. Leave us a detailed message and one of our representatives will contact you as soon as possible, usually within 24 to 48 hours.
                                     website and video by Jack Lee at FishMonkeyFilms www.fishmonkeyfilms.com